Man's Best Friend Ties the Knot in The Dog Wedding
Dog lovers and film buffs unite! The Dog Wedding, a bark-out-loud romantic comedy about a German businesswoman (Rosalie Thomass) who falls for an American wrestler (Matthew Bloom) while planning their English Bulldog's wedding, premieres November 21, 2015 at The Auditorium On Broadway, 1871 Broadway, at 5:30 p.m. Mr. Bloom and Ms. Thomass will attend, as will their co-stars and the filmmakers.
"We're proud to donate 100 percent of ticket sales to Canine Companions for Independence and Long Island Bulldog Rescue," said Jason B. Hurwitz, the film's Producer. "These charitable organizations serve New York with 50 collective years of dedication to animal welfare and the human-canine bond."
"The movie is about how dogs bring people together, even those you would least expect," said 6'8", 360-pound Mr. Bloom, who is known worldwide for his 15-year career with WWE and New Japan Pro Wrestling. "I've had bulldogs my whole life and we've made all kinds of friends at the dog park. I can't wait to share this film with the world."
Ms. Thomass is the star of the German box office hit One Hot Number and Taxi, which she headlines with Peter Dinklage. "Dogs getting married was new to me," she confessed. "I was thrilled to explore how my character -- an overworked executive at odds with her father over the direction of the family pickle empire -- would change when drawn into this wild American world of dog weddings, musclemen and cosplay."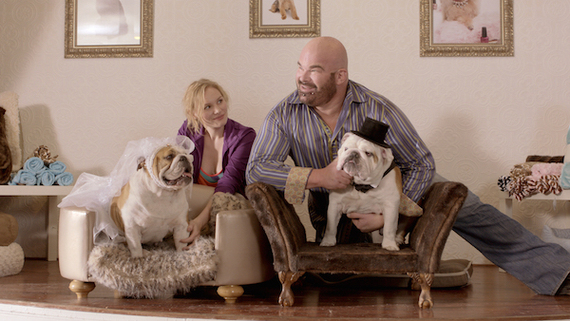 photo: long formal dresses

The Dog Wedding marks Ms. Thomass' U.S. film debut. Bernhard Schütz, the prolific German actor who plays her overbearing CEO/father, appeared alongside Philip Seymour Hoffman in A Most Wanted Man last year.
"Pairing a pro wrestler with dramatic German actors unleashed a comedic clash of cultures," said James Lefkowitz, the film's director. "We enjoy toeing the line where fiction meets reality by casting actors whose own backgrounds parallel their characters."
The premiere is also the big screen debut for 50 canine couples who won The Dog Wedding photo contest. The winners, which total 3 million social media followers, include rescue ambassadogs Titus & Hailey (Grand Prize), celebrity rescue Chloe Kardoggian and the inspirational Simon The Blind Pug. Their photos grace the film's unique opening credit sequence.
A German businesswoman falls for an American wrestler she meets at the dog park, testing her lifelong obedience to her CEO/father. Rosalie Thomass and Matthew Bloom lead a delightfully eccentric cast in this refreshing romantic comedy. Follow the improbable duo as they discover your best friend's wedding can be a real wake-up call!
About Canine Companions for Independence
Founded in 1975, Canine Companions for Independence is a non-profit organization that enhances the lives of people with disabilities by providing highly trained assistance dogs and ongoing support to ensure quality partnerships. Headquartered in Santa Rosa, California, Canine Companions is the largest non-profit provider of assistance dogs, and is recognized worldwide for the excellence of its dogs, and the quality and longevity of the matches it makes between dogs and people. The result is a life full of increased independence and loving companionship.
About Long Island Bulldog Rescue
Founded in 1999 by Laurette Richin, Long Island Bulldog Rescue serves the Northeast, helping English Bulldogs through education, prevention, intervention and adoption. LIBR fulfills its mission by helping, healing, and homing abandoned, neglected, abused, or released English Bulldogs. All donations go to the rescue, medical needs and daily care of the bulldogs.
see more: graziadressau.com


Głosuj (0)

alanaoldaker 08:07:21 10/11/2015 [Powrót] Komentuj